PERSONAL FITNESS TRAINING
SPECIAL HIGHLIGHT
Our client Magesh has been training with our trainer for a year and he has experienced a total physique and health transformation in his journey. He has never felt healthier and happier than before.
Standing at the age of 40, his dream was ti inspire his kids by inspiring himself first. He wants to prove that age is never a barrier for success and dreams thus he has decided to make his first debut on stage in a physique competition, standing against athletes in their 20s.
"Life is a journey where you either GO through it or GROW through it. I chose to GROW ! Life always gives you choices! Choose wisely!"
FITNESS MOVEMENT TRAINING
Fitness Movement is a very special fitness company, that has its own gym, organised corporate fitness retreats, conduct local and National Bodybuilding championships and collaborates in several campaigns alongside government agencies like Health Promotion Board, ActiveSg etc promoting fitness.
But more importantly, relatable to you is our seriousness in influencing and making people fit and healthy. Our believe that while you are training to be fit, you might as well look better. And no one else is Singapore is more focused in developing and creating the aesthetics of the physique. So you can surely be assured that we can help you look better, if not to compete on stage, then at least to look good for your satisfaction and feel good for your daily life.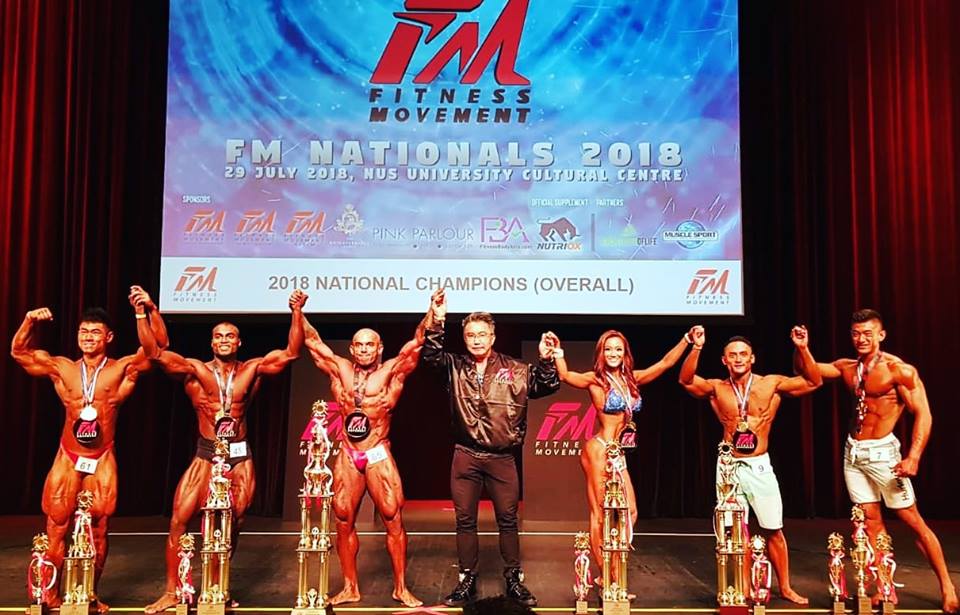 Fitness Movement Singapore Nationals
WE CROWNED MR SINGAPORE FOR 6 YEARS, AND CONSIDERED TO BE A NATIONAL BRAND IN FITNESS.
Beside making you look great, we can help you in many other functions:
Rehabilitate for Surgery and Medical Fitness
Sports Strength and Conditioning
Normal Weight Loss Program
No gym membership required ! So you dont pay a membership fee, saving you thousands of dollars !
CALL or WHATSAPP 
93888893
 for a free consultation with our personal trainer now!
Consultation strictly by appointment only, Thank you.
We are training clients at
Orchard Cineleisure, 8 Grange Road, #03-01, Singapore 239695
GROUP

PERSONAL TRAINING
Please check with us on price and schedule.